Day 1: LE P'TIT DEJ'
French breakfast is not always as romantic as you expect it to be. Some of my friends like to eat half a baguette with camembert on it, dipped in café au lait. Then they enjoy a first cigarette. If you're running late you can also skip the baguette and just have a "café-clope" breakfast (coffee and cigarette).
Day 2: LA SOUPE AUX CHOUX
is a 1981 movie about two old men who drink wine, eat cabbage soup and fart a lot. One day their farts are overheard by an alien to whom cabbage soup is the most amazing thing ever. Short: the French E.T.

Day 4: CAFÉ BOUILLU, CAFÉ FOUTU!
(Boiled coffee is ruined coffee) This funny and grammatically wrong rhyme is a reminder never to boil old coffee when you warm it up!
(it should be bouilli, not bouillu) 
Day 5: UN MONACO EN TERRASSE.
Monaco not only is this quirky monarchy on the french riviera but also a beer cocktail made of grenadine, lemonade and light tap beer that is generally ordered by adolescents. Cheers!
Day 6: NICOLAS.
This is an adaptation of mascot Nectar, the iconic delivery man of Nicolas, famous french wine specialist where you can get everything from low-priced wines to pricey champagnes.
Day 7: LA FÊTE DU SLIP.
The celebration of the briefs. When you party so hard that you loose your mind…

Day 8: L'INSPECTEUR MAIGRET.
One of the best ways to discover Paris without traveling is to read Simenon's novels…

Day 9: FAIRE CHABROT.
Custom whereby at the end of a soup, one adds red wine to the bowl to dilute the remnants and brings it to the lips to drink in big gulps. (La société rurale traditionnelle en Limousin, pp. 265-266)

Day 10: Sunday is funday.
No culture today, instead: FLMNGS 
Day 11: HAUTE CUISINE
For example this highly sophisticated dish from Alain Ducasse at Plaza Athénée in Paris: Hemp seeds, leaves and flesh from butternut squash and pumpkin (95 €)

Day 12: CHANTER EN YAOURT
You love the Spice Girls but can't remember (or don't understand) the lyrics? Just sing it in "yoghurt"… Yo sé yo wa da uan, wa yo béli béli uan!
Day 13: CASSE TOI POV' CON! (Beat it, asshole!)
This is what former president Sarkozy shouted to someone who didn't want to shake his hand at the Paris agricultural fair 2008

Day 14: LE RADIS-BEURRE
Classic french school canteen food. I always hated it.
Day 15: LE SOLEX
First steps into freedom…

Day 16: UN PERROQUET AU COMPTOIR (A parrot at the bar)
A parrot is a long drink made of pastis, mint sirup and water.
Day 17: Sunday is funday. No culture today, instead: a howling mice. 
Day 18: LA BÉDÉ ("Bande dessinée" = Comic Strip)
Not only for children and adolescents…french grown ups love their comics too. You will always find a big "BD" department in every library and a large range of comic magazines to satisfy your daily need of nonsense…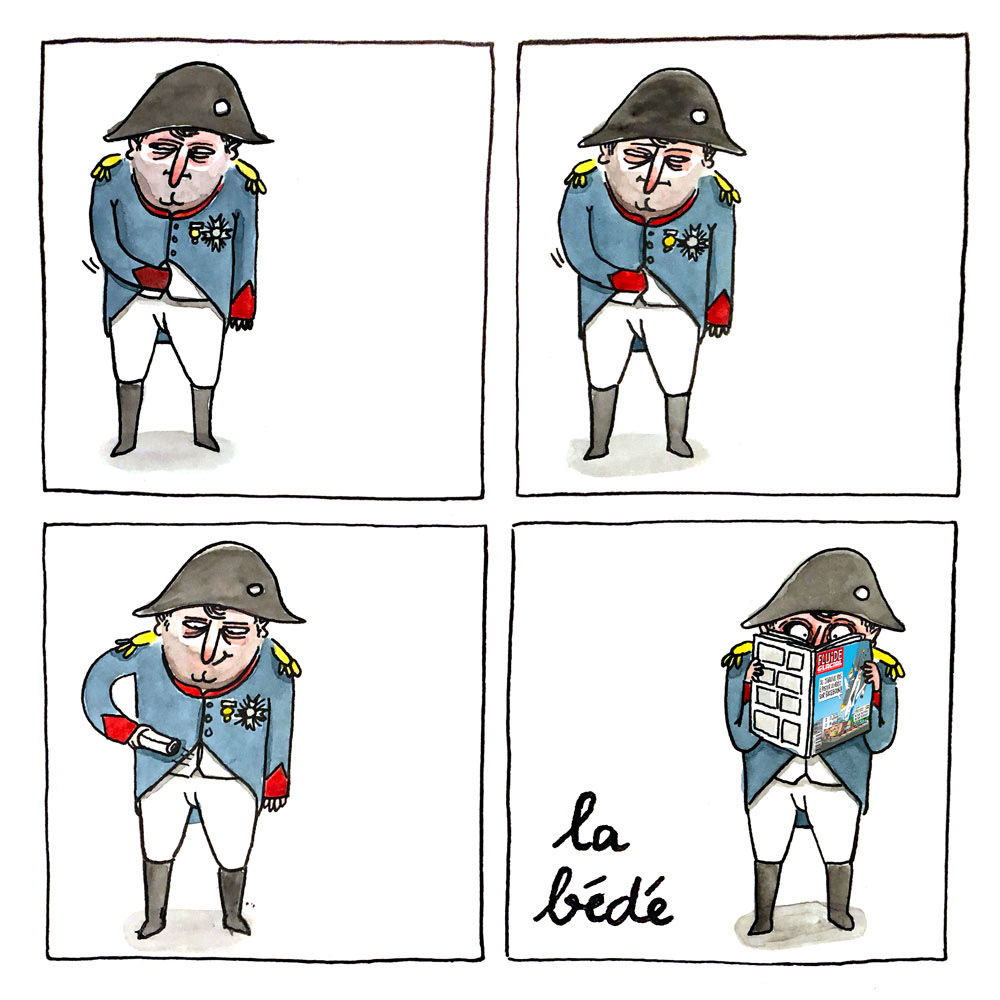 Day 19: L'ANDOUILLETTE AAAAA
is a sausage essentially made of pork's intestine and chitterlings. The "Association Amicale des Amateurs d'Andouillettes Authentiques" ('The Friendly Club of Lovers of Authentic Andouillette') gives certificates to high-quality products, so you can be sure to buy the best kind of this most delicious sausage.
Day 20: LES CLODETTES
Sexy girls hired by pop singer Claude François or "CloClo" (1939-1978) to execute a choreography in the background while he was singing and dancing like hell on stage.
Day 21: LE GENDARME COUCHÉ.
Speed bumps colloquially are called "lying gendarmes"…
Day 22: LA GOURMETTE.
Very traditional jewelry, but fashion faux pas. Often worn by unconfident adolescents… or old rock'n'roll stars.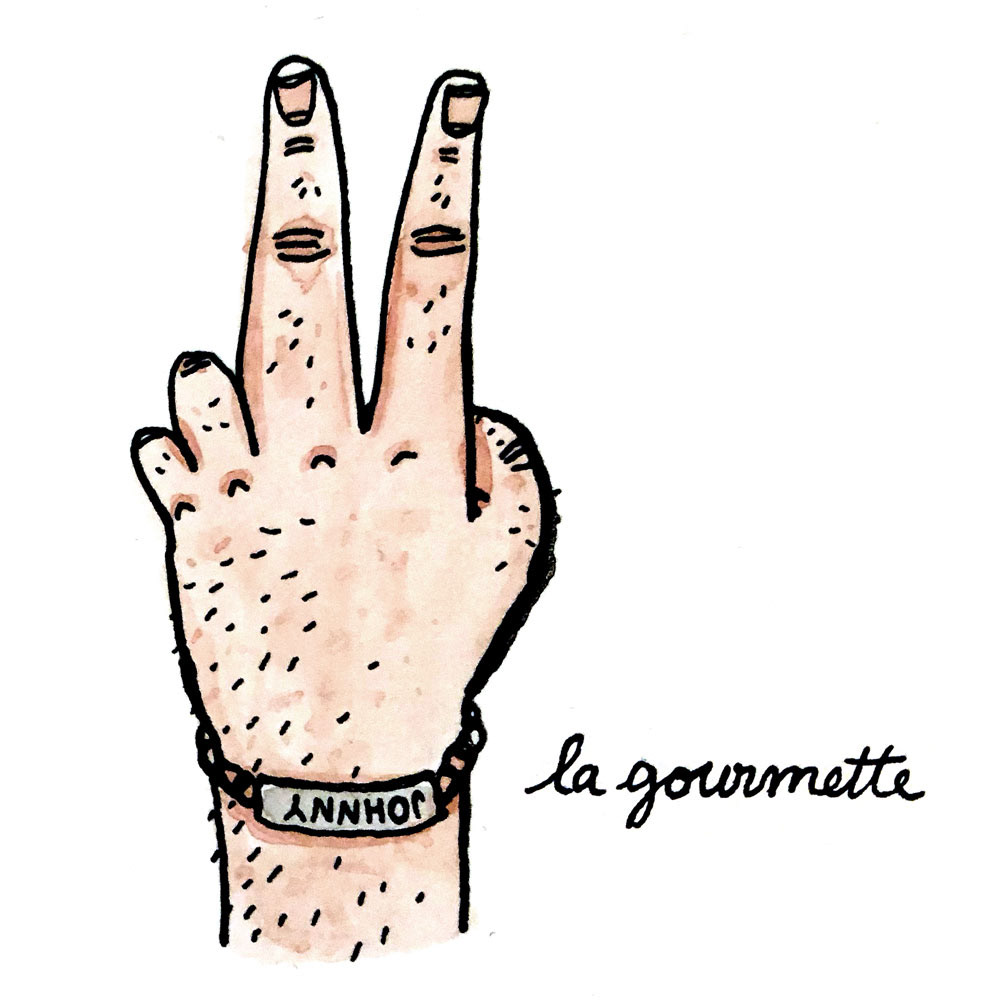 Day 23: LE TROU NORMAND.
"The norman hole". A welcome little helper for tomorrow's orgy… After the oysters, the foie gras, the scallops, the turkey: have a small Calvados (apple brandy from Normandy) before dessert. Like Louis:
https://youtu.be/f57z3zSJkL0
​​​​​​​
Day 24: LA BÛCHE DE NOEL (or Kloug*)
Now you had your norman hole, enjoy this beautiful and refreshing dessert! MERRY CHRISTMAS!!!
*And because Sunday is Funday, I bring you the gift of KLOUG, an alternative cake appearing in the french ultimate cult Christmas movie "Le père Noel est une ordure" (Santa Claus is a stinker): https://youtu.be/U612oLbu-HE